Resistance Temperature Detector
Resistance temperature detector is one of the most commonly used temperature detectors in low and medium temperature ranges. Based on the contact temperature measurement method, it can meet most of the industrial temperature measurement requirements.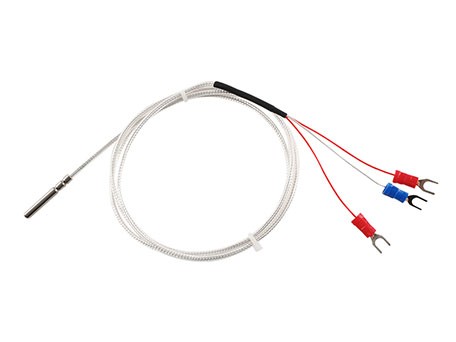 Application :
●Platinum thermal resistance sensor
●Used for bolier/pipeline/electric heating plant etc...
●Object surface temperature detection
●Main steam temperature detection/Medical
Advantages
01Platinum thermal resistance sensor with the highest accuracy.
02Lower thermal resistance used in thermal management solutions.
03High quality teflon shielded wire is not afraid of any pull.
04Silicone cable with high corrosion resistance.
05Stronger waterproof with rolling process.
05PVC cable with low cost.
Resources
Technical Data
Resistance Temperature Detector

Index No

PT100 (default) / PT1000 / NTC series 10K, 50K, 100K,or customized.

Measuring range

-50-+ 200 ℃ (default)

-200-+ 200 ℃

-50 ℃-+ 420 ℃ or customized.

Accuracy

2B, B, A, 1 / 3B etc. available

Probe Diameter

Φ4mm, φ2, φ3, φ5, φ6mm or customized

Probe length

30mm (default), 10,20,40,50,60,70,80,90,100mm or customized

Cable Length

0.5 m, 5 m or customized

Probe Material

Seamless 304
Related Products
Inquiry
Please complete form below to request a quote for Temp sensors.