HPT300-C2 Refrigeration Pressure Sensor
Refrigeration pressure sensor adopts the latest generation of ceramic pressure core, which can be used in a low temperature environment of -20-125°C. The shell adopts a "passivation" process, which is not affected by moisture and condensation. It is widely used in refrigeration and HVAC systems and is compatible with various types of refrigerant measurement.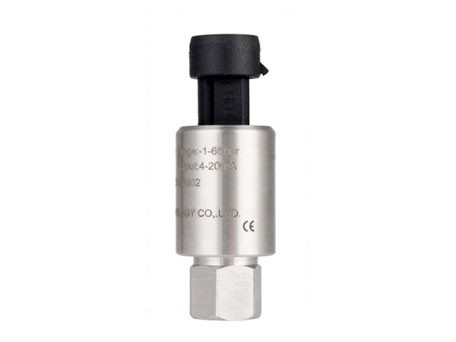 Application :
● Refrigeration equipment
● Centrifugal compressor
● Screw-type,reciprocating and turbo compressors
● Air-conditioner production line testing
● HVAC Systems
● Energy and Water Treatment
Advantages
01SAE female Process Connection with built-in Schrader Deflator
02-35℃ ~125℃ Wide working temp scope
03Long time working at low temperate -35℃
04Superior Long term Stability
05Excellent Repeat ability/Hysteresis
Resources
Technical Data
Parameter

HPT300-C2

Pressure Range

Gauge /Negative/Absolute pressure optional

Overload

150% F.S.

Burst Pressure

200% F.S.

Accuracy

≤ ±0.5%F.S (Typical) ≤ ±0.25%F.S (By Customized)

Total Error Band

0...50 °C max. ≤±1.0%FS; -20...80 °C max. ≤±2.0 %FS

Stability

0.2%F.S±0.05%/Year

Working Temp

-35℃~125℃

Storage Temp

-40℃~125℃

Temperature Compensation

0℃~50℃

Medium Compatible

Compatible with SUS304 Stainless Steel and ceramic

Electronic Wire

2 Wires

3 Wires

Output

4~20mA

0~5V

0-10V

0.5~4.5 V

radiometric

Power Supply

10~30 V DC

8~30 V DC

15~30VDC

5 V DC±5%

Short circuit protected

Yes

Yes

Yes

Yes

Over-voltage protection

32 V DC

32V DC

32 V DC

7V DC

Insulate resistance

>100M Ω @100V

Thermal effect on span

+/- 0.03%/℃

Thermal effect on zero

+/- 0.03%/℃

Electronic connection

Packard 3 Pin Connector IP65; Packard 3 Pin Connector with cable length by customized.

Pressure connect port

1/8''NPT male, 1/4''NPT male/Female, 7/16''-20 UNF male/Female (by Customized)

EMC Standard

EN 61326-1:2013; EN 61326-2-3:2013 EN 61000-6-2:2005; EN61000-6-4:2007+A1

IP rating

IP65

Response time

≤20ms

Certificate

CE Certificate

Weight

Net weight is about 0.10KG, Full Packing weight is about 0.2KG (Including 2 meters cable)
Order information
Pressure range : 0-30 bar , Output : 4-20mA , Power supply : 12~36VDC ,
Process connection : 1/4"NPT male , Electronic Connector : Parkard 3pin .
Related Products
Inquiry
Please complete form below to request a quote for Pressure Sensors.