YI400 Non contact infrared thermometer
The Non contact infrared thermometer is mainly used for forehead, arm and human body temperature measurement. Based on the wireless design, it can avoid laser damage to the eyes and cross-infection. Therefore, whether it is infants, medical or home is the best choice.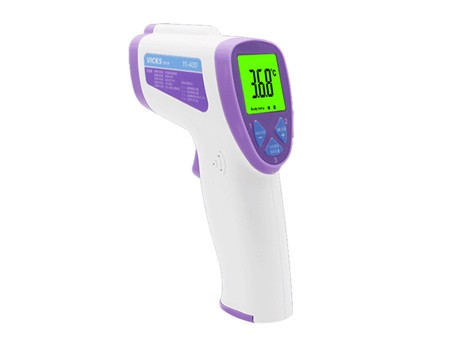 Application :
●Body temperature measurement
●Skin temperature measurement
●Object temperature measurement
●Liquid temperature measurement
●Medical or household
Advantages
01Non-contact design without cross infection.
02Within 1 sencond response to the LCD digital display.
03Omni-directional body, liquid and object temperature measurement, it's simple and convenient to use.
04Don't need to change the battery frequently with low power consumption.
05Dedicated to babies, and carefully guard your health.
Resources
Technical Data
Product name
Non-contact Infrared thermometer
Battery
DC 3V,2*AAA Alkaline battery
Maximum error
± 0.2°C(within 32°C—42.5°C)
Measurement time
≤2 seconds

Temperature measure range

25°C—100°C(Normal)
32°C—42.5°C(high accuracy)
Measurement distance
3cm—5cm
Automatic shutdown
15 seconds
Size
150*90*42mm
Weight
172g
Color
Backlight wiht 2 different colors:orange-green,red
Normal working environment
10°C—40°C Humidity ≤ 85
Stock environment
-10°C—50°C Humidity ≤ 85
Highlights: 1.Support temperature warning 2.Support temperature proofread
3.Support voice promt 4.Support reviewing the temperature record
Related Products
Inquiry
Please complete form below to request a quote for Temp sensors.