MD300C12 Portable Finger Pulse Oximeter
Portable finger pulse oximeter is a diagnostic device for detecting oxygen saturation (Spo2 oximeter) and pulse rate. Based on the concept of finger design, it is widely used by people of all ages(CE and FDA are approved).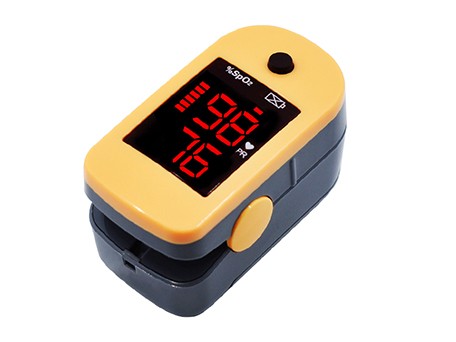 Application :
●Oxygen Saturation/Blood Oxygen Monitor
●Pulse Diagnostic Instrument
●Pediatric Pulse Oximeter
●For All Ages
●Household/Medical
Advantages
01Skin-friendly materials are suitable for all ages.
02High brightness LED display with low power consumption.
03Battery-powered and easy to install.
04The two modes can be switched freely with no worries about health.
05CE and FDA are approved.
Resources
Technical Data
TECHNICAL SPECIFICATIONS

SpO2

Pulse Rate

Measurement Range

70%~100%

Measurement Range

30bpm~250bpm

Resolution

1%

Resolution

1bpm

Measurement Accuracy

70%~100% ±2%;

0%~69% no definition

Measurement Accuracy

30bpm~99bpm ±2bpm; 100bpm~250bpm ±2%

Display

Dimensions and Weight

Type

LED

Dimension

58mm (L) * 32mm (W) *

34mm (H)

Parameters

SpO2, PR, Pulse bar

Weight

50g (including batteries)

Power Requirements

Battery:

Two AAA-size 1.5V Batteries

Power Consumption

Less than 40mA

Environment Requirements

Operation Temperature

5℃~40℃

Operation Humidity

15%~93%, no condensation

Storage Temperature

-25℃~+70℃

Storage Humidity

≤93%, no condensation
Related Products
Inquiry
Please complete form below to request a quote for Temp sensors.