HPT605 Submersible Sewage Water Level Transducer
The submersible sewage water level transducer can be used for measuring in polluted environment for a long time. It can not only automatically conduct atmospheric and temperature compensation, but also reduce the temperature drift.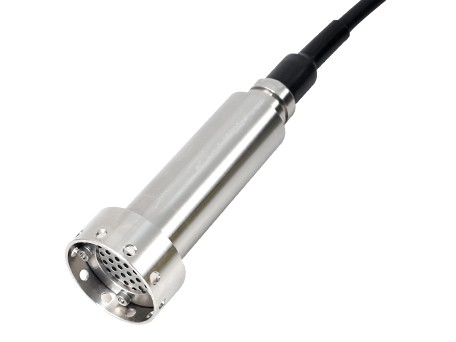 Application :
●Sewage water level measurement
●Level measurement in water suction pump
●Canal water level monitoring
●Municipal sewage level measurement
●Sediment water level measure
Advantages
01A removable large diameter 40mm filter nose 
02Surge protection and polarity protection are available
03Automatic conduction of atmospheric and temperature compensation
04Fast response, suitable for noisy or adverse conditions
05Low-Power output signals
Resources
Technical Data
Range

0~1 M…200 M H2O optional

80m max for SDI-12 signal

Output

4-20mA,1-5V,0-5V,0-10V,0.5-4.5V,SDI-12,RS485 Modbus RTU

Power supply

7-30Vdc,8-30Vdc,13-30Vdc,5Vdc±5%,12Vdc,12-30VDC,3.5-36Vdc

IP Rating

 IP68

Accuracy

0.25%F.S by customized, 0.5%F.S standard

Working temperature

-40-80℃(non-corrosive medium)

Temp Compensation

0°C~80°C 

Zero Temp. Drift

0.2%FS/°C(≤100kPa); 0.1%FS/°C(>100kPa)

FS Temp. Drift

0.02FS/°C(≤100kPa); 0.01%FS/°C(>100kPa)

Electronic connection

Fixed cable

Response time

≤10 ms 

Certificate

CE,RoHS

Application

City water,Drainage, Sewage pump station etc
Related Products
Inquiry
Please complete form below to request a quote for Level sensors.