HPT300-S1 Compact Pressure Sensor
Compact oem pressure sensor with integrated Germany Ceramic sensors for manufacturing, and the advanced circuit design to avoid influences on the product caused by the temperature, humidity, and medium.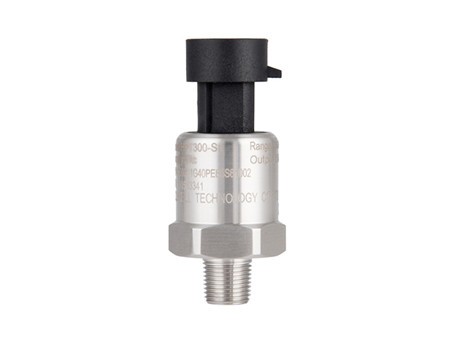 Application :
● Hydraulic pressure
● Water supply system
● Air compressors
● Building water supply
● Braking system
● Process control and automation
Advantages
01Reliable and longlasting in harsh application
02Water hammer design, shock-proof, avoid instant overpressure damage
03High strength stainless steel construction
04Automatic temperature compensation 0-80℃
05Full sealed high stability impact design
Resources
Technical Data
Parameter

HPT300-S1

Pressure Range

Gauge /Negative/Absolute pressure optional

Overload

150% F.S.

Burst Pressure

200% F.S.

Accuracy

≤ ±0.5%F.S (Typical) ≤ ±0.25%F.S (By Customized)

Total Error Band

0...50 °C max. ≤±1.0%FS; -20...80 °C max. ≤±2.0 %FS

Stability

0.2%F.S±0.05%/Year

Working Temp

-35℃~125℃

Storage Temp

-40℃~125℃

Temperature Compensation

0℃~50℃

Medium Compatible

Compatible with SUS304 Stainless Steel and ceramic

Electronic Wire

2 Wires

3 Wires

Output

4~20mA

0~5V

0-10V

0.5~4.5 V

radiometric

Power Supply

10~30 V DC

8~30 V DC

15~30VDC

5 V DC±5%

Short circuit protected

Yes

Yes

Yes

Yes

Over-voltage protection

32 V DC

32V DC

32 V DC

7V DC

Insulate resistance

>100M Ω @100V

Thermal effect on span

+/- 0.03%/℃

Thermal effect on zero

+/- 0.03%/℃

Electronic connection

Packard 3 Pin Connector IP65; Packard 3 Pin Connector with cable length by customized.

Pressure connect port

1/8''NPT male, 1/4''NPT male/Female, 7/16''-20 UNF male/Female (by Customized)

EMC Standard

EN 61326-1:2013; EN 61326-2-3:2013 EN 61000-6-2:2005; EN61000-6-4:2007+A1

IP rating

IP65

Response time

≤20ms

Certificate

CE Certificate

Weight

Net weight is about 0.10KG, Full Packing weight is about 0.2KG (Including 2 meters cable)
Order information
Pressure range : 0-30 bar , Output : 4-20mA , Power supply : 12~36VDC,
Process connection : 1/4"NPT male ,Electronic Connector : Hirchaman connector .
Related Products
Inquiry
Please complete form below to request a quote for Pressure Sensors.