HPT200 Universal Industrial Pressure Sensor
Industrial pressure sensor use high quality Measuring range imported U.S.A piezoresistive pressure sensor, Complete with a fully welded316 stainless steel housing, high shock and vibration and EMI/RFI protection. The Hirschmann, directly cable and M12*4PIN interface with SDI and I2C output.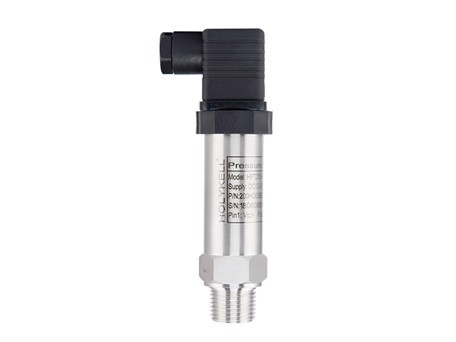 Application :
● Hydraulic pneumatic equipment
● Gauge, Absolute, Negative, Sealing Pressure Measurement
● Hydro-power
● Intelligent building
● Production control
● Petrochemical
● Pressure measuring instruments
Advantages
01Fully Welded Stainless Steel Housing
02Non-linearity up to 0.125 % of span
03High Shock and Vibration
04Full sealed high stability impact design
05Customized outputs, electrical connections and pressure ports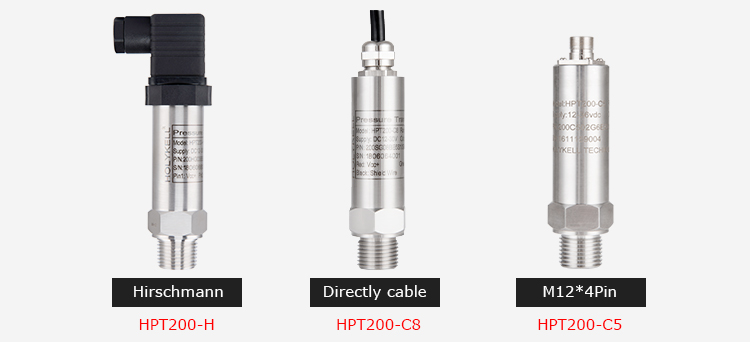 Resources
Technical Data
Parameter

HPT200-H/EX/C8/C5/G

Pressure Range

Gauge /Absolute / Sealed gauge / Negative pressure optional.

Safe Overload

200% F.S.

Burst Pressure

500% F.S.

Accuracy:

≤ ±0.5%F.S ≤ ±0.25%F.S ≤ ±0.1%F.S (by customize)

(Linearity Hysteresis

Including non-lin., rep. and hys.

Repeatability)

Optional

Total Error Band

0...50 °C max. ≤±0.75%FS; -10...60 °C max. ≤±1.0 %FS

Long Stability

0.1%F.S/Year

Working Temp

-40℃~85℃/150℃ optional

Storage Temp

-40℃~105℃

Medium Compatible

Compatible with 316L

Electronic Wire

2 Wires 3 Wires 4 Wires

Output

4~20mA 0~5V Double 4-20mA(P+Temp)

or 4-20mA+HART 1~5V

Power Supply

7~30V/12~30Vdc 12~30Vdc 8~30V/15~30Vdc 7~30Vdc, 12~30Vdc

Load Resistance

Current type: (U-10)/0.02 (Ω); Voltage type: >100K Ω

Insulate resistance

>100M Ω @100V dc

Zero Temp. Drift

0.02%FS/℃(≤100kPa), 0.01%FS/℃(>100kPa)

Body materials

316L stainless steel

Material of diaphragm

316L Stainless steel

Filling oil

Silicon oil (Typical); Fluorocarbon oil (Oxygen Services, by customized)

Electronic connection

-DIN43650 Hirschman Connector, 4-poles and IP65.

-Plug: (4-poles) Type IP67;

-Directly Outlet Cable Type IP67

-Special proof by customize.

Limiting Frequency

1 kHz

Mechanical vibration

±20g

Pressure connect port

G1/4''male, G1/2''male, 1/8''NPT male, 1/4''NPT male,

1/2''NPT male and female optional. (by customized)

Explore Proof Grade

As drawing table listed

Water Proof

IP65(HPT200-H,HPT200-C5); IP67 (HPT200-C8)

Response time

≤10ms

Endurance

>100 million cycles, 0…100 %FS at 25℃

Options

Temperature Range by customized, Maximal range: -40…+100 °C

Oil Filling Fluorocarbon oil (O2-compatible), olive-oil, lowest temperature oil (-55 °C) Pressure Connection, Electrical Connection Others on request.

withstand Xylene medium pressure and level application (customized)
Order information
Pressure range : 0-50 bar , Output : 4-20mA , Power supply : 12~36VDC ,
Process connection : 1/4"NPT male ,Electronic Connector : Hirchaman connector .
Related Products
Inquiry
Please complete form below to request a quote for Pressure Sensors.