HPT200-EX Explosion Proof Pressure Sensor
The HPT200-EX intrinsically safe pressure transmitter is designed for use in hazardous environments, and offers a reliable pressure measurement, specifically for the high demands of industrial oil and gas applications.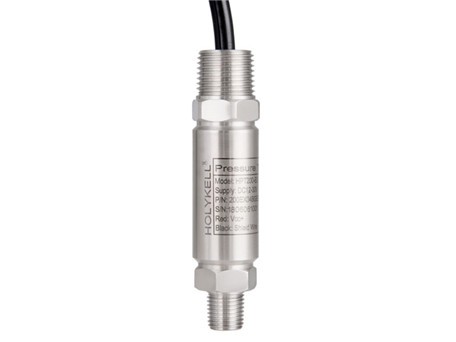 Application :
● Gas station
● Petrochemical industry
● Crude oil measuring
● Natural gas compressors
● Hydraulic and pneumatic system
● Diesel tank level monitoring
Advantages
01MEAS TE pressure core, 0.25% F.S
02316L stainless steel diaphragm
03High degree of EMC/EMI protection
04IP68 Ingress waterproof protection
05Custom absolute and gauge (relative) versions
Resources
Technical Data
Pressure Range

Gauge /Absolute / Negative pressure optional.

Overload

200% F.S.

Burst Pressure

500% F.S.

Accuracy

0.5%F.S.(Typical)

0.25%F.S.

0.1%F.S. (by customized)

Repeatability

Optional

Long Stability

≤ ±0.1%F.S. of span/year

Working Temp

-40℃~105℃

Compensation Temp

0℃~50℃

Storage Temp

-40℃~125℃

Medium Compatible

Compatible with 316L Stainless Steel

Electronic Wire

2 Wires 4 Wires

Output

4~20mA RS485 MODBUS RTU

Power Supply

7~30 V DC

Load Resistance

(U-10)/0.02 (Ω)

Insulate resistance

>100M Ω @100V

Zero Temp. Drift

0.03%FS/℃(≤100kPa), 0.02%FS/℃(>100kPa)

Pressure connection port

G1/4"male, G1/2"male, 1/4"NPT male, 1/2"NPT male and female optional.

Electronic connection

1/2"NPT male thread with outlet cable IP68.

Endurance

>100 million cycles, 0…100 %FS at 25℃

Explosion-proof rating

Ex(ia)ⅡC6 (standard type)

Mechanical vibration

±20g

Certificate

CE RoHS ATEX

IP rating

IP68

Response time

≤10ms

Options

Customize oil filling fluorocarbon oil (O2-compatible), olive-oil, lowest temperature oil (-55°C)

Pressure Connection, Electrical Connection Others on request.

withstand Xylene medium pressure and level application (customized)
Order information
Pressure range : 0-50 bar , Output : 4-20mA , Power supply : 12~30VDC ,
Process connection : 1/4"NPT male , Electronic Connector : 1/2"NPT male .
Related Products
Inquiry
Please complete form below to request a quote for Pressure Sensors.